Tours & Activities
Norfolk Island Tours & Activities
Welcome to our world – we've got a whole range of tours & activities to offer you. This is the home of the Norfolk Island PEOPLE. Over 20 nationalities live here. Notably it is home to the Pitcairn Islanders, descendants of the Mutiny on the Bounty, who arrived here on June 8, 1856. They brought with them cooking, music, and weaving/ plaiting that are still practiced today, and a language that is still spoken. The Norf'k language (Norfolk language) is a wonderful mix of Tahitian and old English, and it is taught in our school.
Norfolk Island has an amazing PAST. It is home to the southern hemisphere's best collection of restored convict built Georgian buildings and structures that are still in community use today – living history indeed! And they are World Heritage listed. They house our museums, our parliament, and our public service. The convict built pier is one of two places only to launch boats to go fishing, or bring in goods from overseas.
The island is only 8 x 5 kilometres in size, yet it is a PLACE of amazing physical beauty. It is a place blessed with a wonderful sub-tropical climate where the 'great outdoors' is yours to enjoy. Where 'fast food' is pulled out of the ground. Where 40 endemic species of flora and fauna live. Our air is amongst the cleanest on the planet. The only impurity in our seas is a 220 year old ship wreck.
On Norfolk Island you can take it as easy as can be, or be as busy as you want to be. There is a wide range of things to do, choose from: amazing marine and nature-based pursuits such as bush walking, sea kayaking, frontier surfing, diving/snorkeling, and deep sea fishing; shopping; dinners; shows and plays; convict and many other historical tours; and cliff top fish dining. So, OUR world is YOUR playground and we look forward to showing you around!
Below are some tours & activities that are on offer. Read below and learn a little more or contact one of our friendly staff and discuss your Norfolk Island holiday package today.
The Burnt Pine Travel Team.
Burnt Pine Travel
50 Ferny Lane
PO Box 475
Norfolk Island 2899
Phone: +6723 22195
Email: info@burntpinetravel.nf
ABN: 30 313 588 252
Here's a selection of the tours & activities available on Norfolk Island
Tuesday & Saturday
Price: $55pp
On 8 June 1856 a total of 194 people, descendants from the Bounty, arrived on Norfolk Island from Pitcairn Island aboard the Morayshire. This consisted of 40 men, 47 women, 54 boys, and 53 girls. They arrived in cold, wet blustery conditions. Few had ever been to sea before, They were seasick, homesick, and heartsick. The journey of 6,000 km / 3,700 miles took five weeks. They arrived to a recently abandoned penal settlement set aside for the 'worst of the worst', it was full of ghosts and memories. It was a large and frightening testimony of man's inhumanity to man. The 1856 untold story will follow their journey in the World Heritage Listed Kingston area. Baunti Tours will bring the past to life with an audio aboard their coach, recounting stories of the families, where they lived and how they adapted to their new life on Norfolk Island. This 1 hour tour is very evocative.
Thursday Price: $65pp
Your walk will take you through diverse habitats from rain forest to clifftops, between enormous pines and white-woods and surrounded by seabirds. While the topography is hilly, the pace is relaxed and our guides cater to a range of fitness levels. Your efforts are also richly rewarded by a delicious barbeque breakfast with all the trimmings which awaits. Learn about our flora and fauna and see some of our 40 endemic species of plants and birds. For those that just want to join us for breakfast come along! We will relax and meet up with the others for breakfast.
Colleen McCullough Home Tour
Tuesday, Wednesday, Thursday and Friday Price: $63pp
Colleen McCullough, world renowned author of 24 books called Norfolk Island home for almost 36 years. She and husband, Norfolk Islander, Ric Robinson, created a luxurious hideaway and maintained their privacy to ensure that Colleen had the perfect environment for her writing. Some of her most powerful titles were created in this much loved sanctuary.
Wednesday Price: $95pp
This factual yet fun dinner theatre is Norfolk Island's newest interactive show and a great way to learn about Norfolk's history. The cast of actors will take you on an entertaining journey back in time. Explore their great challenges, impressive successes and shameful secrets. Our venue has created a special three course dinner menu of traditional English fare to compliment the theatrical setting. Hearty, wholesome, British tucker fit for a Commandant and his good lady wife. A night of great entertainment, delectable food and loads of fun.
Wednesday & Sunday Price: $60pp
Learn about World Heritage Listed Kingston. Hear about our first settlers, the Polynesians who came 900 years ago. Learn about our First and Second Convict Settlements and the facts and legends associated with each. Learn how Norfolk became home to descendants of the infamous 'Bounty' mutiny.
Friday Price: $62pp
Visit the gardens of Bounty Mutineer Descendants. This personalized tour will take you on a journey behind the scenes to experience a market garden complete with a flower garden and an orchard. A secluded old Island home surrounded by the most amazing gardens, these gardens are irrigated by a hand dug well which was dug in the convict era. The next stop is the labour of love garden which is inspirational. You will also visit the picturesque gardens with amazing views. Morning tea will be served at scenic location. These four amazing gardens are exclusive to Baunti Tours.
Thursday & Saturday Price: $80pp self drive
You will have an eagle-eyed view of the tiny crescent-shaped beach and the magnificent spread of ocean stretching to the far horizon. The beautifully set tables will delight you – it's the most glamorous picnic you will ever attend! Scrumptiously fresh, local fish is prepared the local way and accompanied with a range of seasonal island dishes including those passed down from our Polynesian fore-mothers. Our feast kicks off with entertainment, by a local singer and Tahitian-style dancers. The venue is subject to change if the weather becomes inclement.
Tuesday and Friday Price: $95pp
The Progressive Dinner is legendary. The perfect way to get a taste of the real Norfolk lifestyle, Baunti's progressive dinner, takes you to three lovely homes in three completely different parts of the island. All you must do is relax and enjoy the home-cooked food, bursting with the goodness of fresh island produce, chat with your fellow diners and soak up the stories of your island hosts as they share their passion for their little island paradise.
Tuesday & Thursday 1pm Price: $68pp
Taste of Norfolk will take you to a beekeeper's home where you will view flow hives and learn about the fascinating local honeybees and view their incredible flight path to their hives. Next stop will be the local butchers where you can find out all the answers about our local meat industry and see firsthand the art of sausage making. Last visit will be a cooking demonstration and you will see a traditional yorlor stone which came from Pitcairn Island on the Morayshire in 1856, you can have a yorlor on the stone to create green banana fritters flavoured with local honey. You will meet 3 passionate locals, enjoy!
Monday 6:30pm Price: $95pp
A new murder mystery dinner set in 1859 on Norfolk Island. Go back in time and dine with the Chief Magistrate Frederick Young and his wife Mary. Frederick is hosting this dinner to honour His Excellency, Governor General Denison who is making yet another visit to the island. A young English surveyor from Sydney is found washed up on the cove southeast of Point Hunter. Dine on a 3-course dinner while you help solve the mystery of "Who Killed the Surveyor?" The tour takes place in one of the original, elegantly restored Georgian houses at No. 9 Quality Row, on the beautiful Kingston foreshores.
Bird Finder Tour with Margaret Christian
Departs the Visitor Information Centre
Monday, Wednesday and Fridays
Price: $120pp
Norfolk Island's unique birds are waiting for you! You can be one of the many visitors who says, "This has been my best day on Norfolk!" after visiting easy access forest glades, private property and stunning coastal areas where 25 rare and endemic bird species can be found in the island's subtropical rainforest. Sensational photographic opportunities. This tour is weather dependent, min. 2 & max. 9 persons for this tour.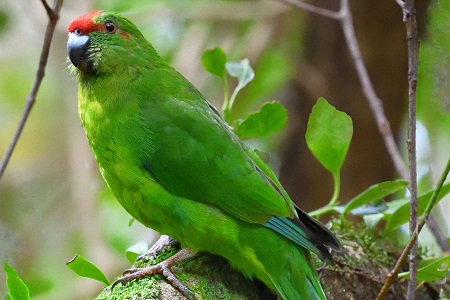 Open 7 days from 10am to 4pm
Price: $15pp
No trip to Norfolk Island is complete without a trip to the Bounty Folk Museum. You'll find history, humour and hospitality in this much-loved and quirky museum. A treasure chest of Norfolk Island history, the museum is an Aladdins cave, full of fantastic collections. Contained within it's walls are excellent learning resources and inspiring information stretching back to 1788. Entry pass includes multiple visits so you can return as many times as you like during your stay.
Tuesday, Thursday and Friday Price: $60pp
While tourism is Norfolk's largest industry, it is by no means its only one. On this tour, we take you to a selection of the many other enterprises that sustain our community. These might include: raising meat producing sheep, market gardening, pig farming, manufacturing soft drinks and liqueurs, gardening or exporting Kentia seedlings. Refreshments provided.
Fletcher's Mutiny Cyclorama
Open Friday – Wednesday Price: Adult – $15pp, Child – $5pp (4-14yrs)
An outstanding attraction & Tourism Awards winner, this stunning 360° panoramic painting has been impressing visitors with its 'wow' factor for over 10 years. It brings to life the Bounty mutiny & the history of the Norfolk Island people.
Monday – Friday at low tide Price: $60pp
Your local guides will share their knowledge of Norfolk's unique marine life. After 'walking the plank' with these 'mutineer descendants', it takes 60 seconds (yes one minute!) to be at the reef. View beautiful coral gardens and tropical fish inside the calm crystal waters of Norfolk's lagoon. Full interesting commentary on this environmental tour and be prepared for a touch of Norfolk humour (add $11 if transfer required).
Island Adventures 4WD Tour
Mon, Tue, Thu and Fri 9am
Price: $70pp
Explore Norfolk's backlot aboard an 18-seater 4WD bus. In air-conditioned comfort you'll view remote Norfolk. See native Flora and bird life, travel through the national park, Island forests and see spectacular private Island views. Great for all ages and includes delicious cakes & tea at a beautiful Island home.
Wednesday and Saturday Price: $47pp
Real ghost stories and real hauntings. Bring an open mind and come with us beyond the boundaries of the known. Hear the terrifying tales of mischief, malice, mayhem and murder as your local ghost host guides you on a spine tingling lantern-lit tour around the historic streets of the Olde Town. Includes a cemetery walk and visit to Australia's most haunted house as seen on TV.
Museums Pass and Tag-a-long Tour
In your own time Price: $35pp
Explore the Museum at your own pace with the Museum Pass. It includes multiple entries to all four museums at any time during your stay, as well as two guided Tag-A-Long tours. These tours include a guided journey behind the scenes, to reveal additional stories from the museum collection and Norfolk's history. There's no need to book, simply turn up on the two mornings that suit you. All tours leave from the R.E.O. Bookshop at 9:30am and take approximately an hour and a half.
Museums included: Pier Store, HMS Sirius, Commissariat Store and No. 10 Quality Row Tag-A-Long tour schedule: Monday, Wednesday, Friday: Commissariat Store and No. 10 Quality Row Tuesday, Thursday, Saturday: Sirius Museum and Pier Store
Museums Pass with Cemetery Tour
In your own time Price: $50pp
Museum Pass with cemetery tour includes: For Whom The Bell Tolls – Stories from the Norfolk Island Cemetery. This one and a half hour guided tour of the Cemetery will bring to life the people, events and history of Norfolk Island. Spanning over 200 years, the Norfolk Island cemetery is one of the most important and unique cemeteries in Australasia. A local guide will lead you through the gravestones and the stories, providing a unique and truly memorable experience. The only dedicated Cemetery tour on offer on the island. Plus, explore Norfolk's Museums at your leisure with multiple entries to all four museums at any time during your stay, as well as two guided Tag-A-Long tours. There's no need to book, simply turn up on the two mornings that suit you. All tours leave from the R.E.O. Bookshop. The Tag-A-Long tours depart at 9:30am, the Cemetery Tour departs at 11:30am, all tours take approximately an hour and a half.
Museums included: Pier Store, HMS Sirius, Commissariat Store and No. 10 Quality Row Tag-A-Long tour schedule: Monday, Wednesday, Friday: Commissariat Store and No. 10 Quality Row Tuesday, Thursday, Saturday: Sirius Museum and Pier Store
Pitcairn Settlers Village
Wednesday and Saturday Price: $45pp
Learn about the colourful history of Norfolk Island's most recent settlement – the Pitcairners and their descendants, on one of the last few remaining original settler's properties. Experience the history & culture of the Pitcairn Settlers. View the magnificent homestead gardens, including many of the traditional crops. Ride in Norfolk's first tour coach, a model A Ford. View a film, visit a blacksmith's forge, the original homestead, a WWII Army hut and Museum of Memorabilia. Tour includes light refreshments.
Wednesday 4:45pm Price: $39pp
You are an eyewitness to a courtroom drama as 15 extraordinary characters step on stage to expose Norfolk's colourful and at times turbulent past. This highly successful play has been running for over ten years. After the show enjoy a sherry with the actors.