Norfolk Island
Welcome to Norfolk Island
Take a journey to latitude 29.03º south and longitude 167.95º east. Take a deep breath and delve into the pages of our island life, Norfolk Island.
We invite you to cross the threshold and you can believe it when we say; a holiday to Norfolk Island will do you 'the world of good'! Throughout 365 days of the year you are welcomed to experience three hundred and sixty degrees of wonder… Immerse yourself in a learning space and absorb four layers of history. Participate in special community events, pursue a sport or creative expression, or just surrender to your surrounds…
Dars-de-waye… Because that's the way it is.
Beautifully interwoven into our perfectly natural space of 8km by 5km, is pristine vistas, exploration, discovery, a 'Norfolk' wave, with the grace and charm of a bygone era where you can effortlessly recapture yourself…
Imagine… peaceful quietude blended with a subtropical air …travel distance within 3 hours …landing in a petite space of 3455 hectares … anchored in the southwest Pacific Ocean!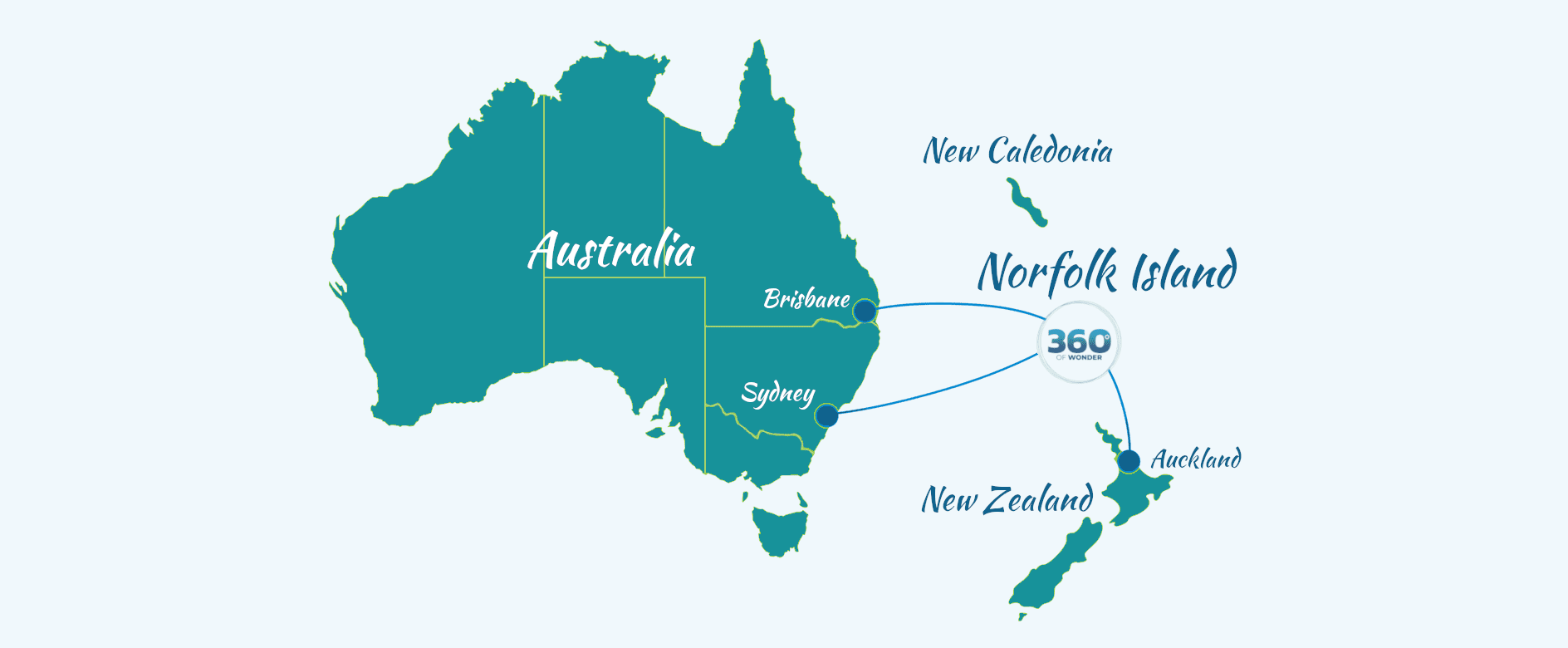 Flying times to Norfolk from...
Air New Zealand normally operates the only regular public transport services into Norfolk from Australia utilising a 168 seat A320. However from the 19th March 2021 until 19 June 2021, flights will be operated by Qantas. This change has been brought about by changes in border restrictions.
Depending on the time of year, services vary from four to five times a week from Australia. Services depart Brisbane on Tuesday & Saturday and Sydney on Monday & Friday. During the busier months there is also a Sunday service departing from Sydney.
Air New Zealand has a significant presence in the Tasman market and a long and well-established relationship with the people of Norfolk. They've been a trusted air service provider to customers since 1947.
Air Chathams commenced regular public transport services from Auckland in September 2019. These were suspended in early 2020 due to Covid19. With the opening of the Trans-Tasman travel bubble, direct Auckland services have been pushed back and looking to resume on June 10, 2021. Initially, return flights will operate every Thursday with an additional return service being added on Mondays, the first Monday flight being 2 August. There has been a change in aircraft from the Convair 580 we saw last time. Services will now be conducted using a Saab 340. This aircraft can carry up to 36 passengers and flight times will average 2 hours 45 minutes.
Be sure to check out the current schedules which are available on this link.
**From www.norfolkisland.com.au, courtesy Norfolk Island Tourism