Cargo Services
Burnt Pine Travel is involved in all aspects of air cargo services to and from Norfolk Island. We've operated as freight forwarders and Airline Cargo GSA's since 1985. The company now operates the only Airline Cargo Terminal Operator (CTO) on the Island from our airside terminal.

Over 95% of aircargo to Norfolk Island is consignee driven being that the majority of cargo is ordered from Norfolk. The cargo team are generally the first point of call for importers and manage the process when required. Burnt Pine Travel receive cargo from bulk loaded Regular Public Transport (RPT) services as well as freighter operations up to the aircraft size suitable to fly to Norfolk which is a B737-400 or AN12. Burnt Pine Travel are agents for all freight forwarders presently exporting to Norfolk Island. We can also assist with any inbound cargo queries.
Burnt Pine Travel are agents for all of the major courier companies who deliver cargo to Norfolk Island including DHL, Toll, UPS, TNT and Fedex. Furthermore, we provide a delivery service to the door requiring signature, or a "hold for collection" service for door-to-airport shipments. Consignments are time/dated and signed on receipt. Finally, Proof of Deliveries (POD's) are then returned to the Courier company either manually or via electronic upload.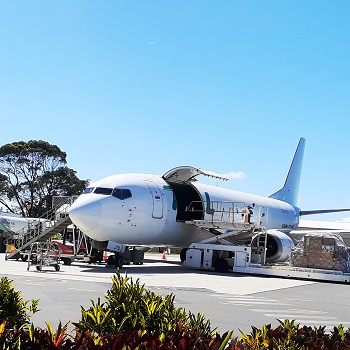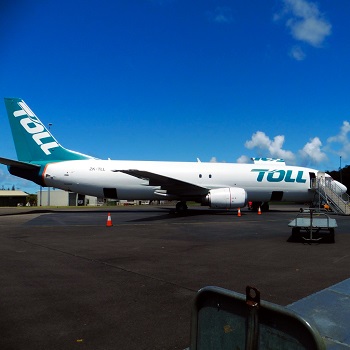 As a licenced RACA, Burnt Pine Travel can receive and consign cargo to Australia, New Zealand or any part of the world. The Burnt Pine cargo team are trained and qualified in all regulatory areas. This includes Dangerous Goods Acceptance and ASR001/ASR002 Security Clear Cargo Acceptance and control access of international cargo.
Freighter operations to Norfolk Island regularly involves Burnt Pine Travel. Depending on the request, we can broker, charter, handle the operation then unload, customs process and release the cargo – or any part thereof. We have a relationship with several operators and brokers and are experienced in sourcing the best solution for freighter aircraft to solve logistical problems such as urgent or oversized cargo or to relieve seasonal backlogs.
Although our main focus is the import and export of air cargo, we can and do handle import and export seafreight as required. Among other services, we can provide receipt, processing, disassembly and delivery of inbound seafreight as required. We can also arrange pickup and consignment of export seafreight.
All cargo is handled and managed subject to our applicable Standard Trading Terms which can be accessed HERE.
For details on our Air or Sea cargo services, please contact the Cargo Department on:
Email: cargo@burntpinetravel.nf
AUS Toll Free: 1800 501 128 (ext 2)
Phone: +6723 22195 (ext 2)
Mobile (urgent): +6723 50334
Or leave your details on the form below and we'll be in touch shortly…